QWERTY is proud to announce the continuation of our exciting Guest Chef Series.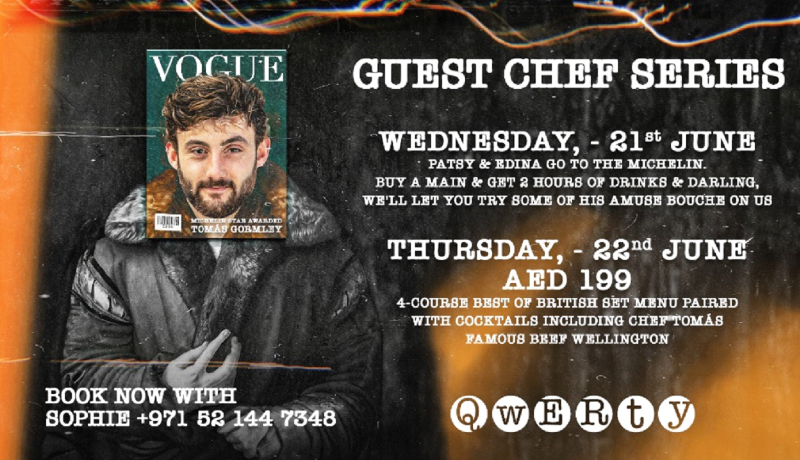 QWERTY is proud to announce the continuation of our exciting Guest Chef Series, with world famous and Michelin Star awarded, chef Tomas Gormley who will be in QWERTY on the evenings of June 21st and 22nd 2023.
Over two nights, chef Tomas will showcase his skills and artwork that his renowned restaurant in Edinburgh, Heron, received its prestigious Michelin Star for. Along with partner Sam, these are two of the youngest chefs to have ever received the Michelin accolade. With a serious background in Michelin restaurants, including Fairlie's (Gleneagles) 2 star awarded and Le Roi Fou, expect two gourmet evenings filled with delicate and elegant menus.
In a time where QWERTY continues to elevate the food offering through the watchful eye of Chef Anna and Chef Naveen, this is the perfect time for chef Tomas to visit and showcase his Michelin skills in the Qwerty kitchen, something the brigade team are very much looking forward to experiencing.
On the first night of the series, Wednesday, 21st of June, chef Tomas will showcase his Michelin spin against the backdrop of our current Qwerty ladies' night offering, (buy a main course and get 2 hours of drinks). With 2 main courses curated by chef to choose from, these will be complemented by a round of Amuse Bouche. We have been lucky enough to get a sneak peek of the menu developing and we are drooling already!
Thursday 22nd, will offer a 4-course set menu beautifully paired with cocktails by the QWERTY bar team. With Beef Fillet Wellington, Mushroom Duxelles and Chanterelles on the menu, it is sure to be a showcase of Best of British with a Michelin twist! Expect great British tunes to enjoy whilst experiencing the Michelin side of Leith, Edinburgh, as chef Tomas cooks up a storm.
This is a takeover not to be missed!
For more information to ensure you secure your front row seats, please press those dial buttons to me on +971 52 144 7348
See you there!