3 REASONS TO STAY AT A MEDIA CITY HOTEL ON YOUR DUBAI BUSINESS TRIP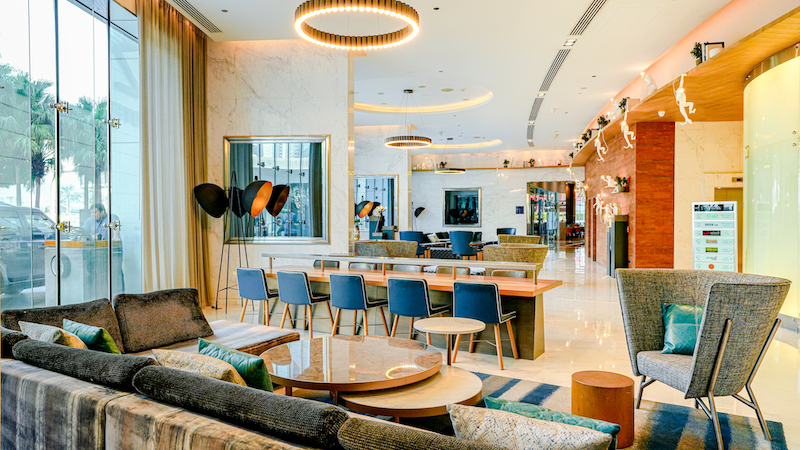 When planning a business trip to Dubai, choosing the right accommodation is crucial. Staying in a Media City hotel offers many perks!
People Work Hard, Play Harder
Media City is Dubai's media and creative hub! It is perfect for media and creative pros. The district is home to many companies, studios, and production houses, offering great networking and potential biz collaborations.
Media City also hosts many events, conferences, and seminars throughout the year, providing valuable opportunities to grow your knowledge and network. You can also explore art galleries, theaters, and live music venues during your downtime.
In the Heart of City
One major perk of staying in a Media City hotel is easy access to other popular Dubai destinations. Downtown Dubai with the Burj Khalifa and Dubai Mall is just a 15-minute drive away. Whether you have a meeting or want to explore Dubai's attractions, Downtown Dubai is super close!
Dubai Marina with its stunning waterfront and upscale dining is also a short 5-minute drive from Media City, giving you plenty of opportunities for leisure and relaxation with a high footfall, 'adult-friendly' destination with a plethora of distractions with a popular selection of award-winning restaurants, bars and nightlife venue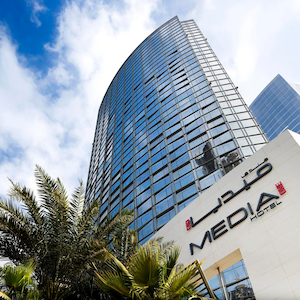 Why choose Media One?
Media One – A business, lifestyle & entertainment destination located in the heart of new Dubai in the trendy Dubai Media City freezone, offers exceptional comfort for your business staycation. With a focus on comfort, convenience and style, our spacious hotel rooms are perfect for longer stays.
Benefits of Staying at Media One Hotel
Enjoy amenities, high-speed WIFI, and lots of co-working spaces, ensuring productivity. Stay active at the 24/7 gym, swim in the pool or recharge in the sauna/steam room.
When it comes to dining, Media One Hotel has got you covered! From buffet breakfast to grab-and-go snacks, our diverse venues cater to all tastes; from Italian in Ciao Bella to classic gastro-dishes in Qwerty, comfort food in garden on 8 and Japanese/South American fusion in Coco Lounge. In the evening, unwind and socialize at our lively bars offering handcrafted cocktails and an array of live entertainment.
Central location for business & pleasure
Staying at Media One Hotel during your Dubai business trip provides the perfect combo of convenience, comfort, and access to fun and work with its proximity to Media City and easy access to Downtown Dubai and Dubai Marina. Additionally, Media One Hotel's awesome amenities, eateries and comfortable hotel rooms ensure a productive yet enjoyable stay. Book your stay at Media One Hotel – the ideal choice for a successful Dubai business staycation!