Through the eyes of the Qwerty sheep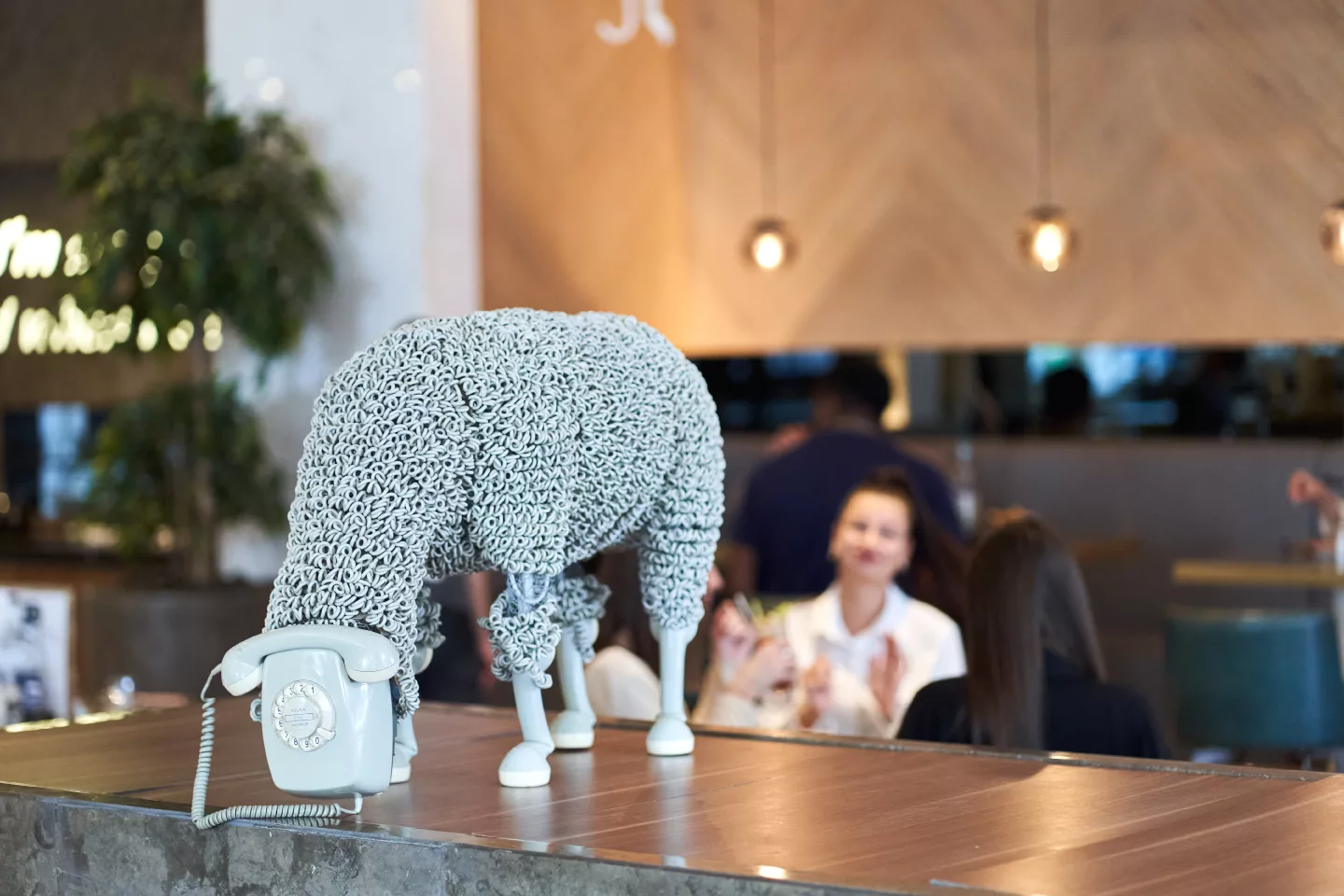 Did you know we are famous around here? Yes, me and my two sheep pals have been the face of Qwerty for quite some time! We sit looking pretty, watching all the daily happenings in Media City's renown neighbourhood gastro bar.
Let me explain why us sheep were hired… QWERTY is Media One's nod to the media. There are multiple ways we do this. The name is the first 5 letters of the keyboard (even I know that, and I can't type!) There is a typewriter that sits at the entrance of the restaurant and artwork imposed as old oil paintings linked to recent media scandals. We are also in the heart of Media City, placing ourselves as the go-to business lunch spot, or after work cocktail destination for the many Media buildings & radio stations surrounding us.
There are three of us sheep, a true iconic trio. The most instagrammed objects in this hotel actually. Rumour has it, the 67 monkeys in the lobby can't beat our attraction! Our hair is made from telephone lines, our feet and faces from retro telephones. Yes, we are as elegant as I make it sound.
Well, I see it all in QWERTY, whether it is our breakfast operation, lunch, cocktails or dinner. Sophie, the Scottish manager, forever looking after us, constantly making sure we are clean and ready for our next big Instagram moment. In January, she put us in kilts for the Scottish guest chef event. I rocked that look, at Christmas we have our yearly Santa hats on, we are very versatile I must say, and the guests love our fashion sense.
We start the day off enjoying the breakfast rush. We are bright eyed and curly tailed from 6:30am, watching you creep in for your morning coffee fix. Well, we are bright and early, you all are a little groggier and sleepier, maybe you stayed in garden on 8 late the night before watching the football?! Nothing that a QWERTY French Toast cannot fix that is!
Lunch shift starts at 12pm, we are still on full form, I am very impressed by the food actually. The Famous Cheese Toastie with the parmesan crown has been around as long as we have, and the business lunch deal, 2 courses for only 90aed? Even as a sheep I know that's a baaaaaar-gin!
Dinner time is my favourite time of day, Monday's Madmen unbeatable playlistI look forward to, as I can listen to the tunes of the 80s. Gents, 2 drinks and a graaaazer for only 49aed! Gossip is for you ladies. A chilled Wednesday night, buy one of our many main course's and get two hours of unlimited drinks. Just don't forget to tag us in your Instagram stories with one of our famous cocktails!
If you have not visited me, please do. I am here all day looking pretty, sitting in the middle of the restaurant, you cannot miss me or my sheep colleagues. Book with Sophie on 0568436814 and quote sheep, to receive a drink from me to snap on the gram! Tag @qwertydxb
Baaaa bye